Okay guys.
Guess What?
Guess what my best friend Phynix has to get to sweet loving warm kind proper homes? I got one. Her name is Abu. Cuz she is a monkey for sure. Well not a monkey. She's a kitten. A fluffy calico kitten that LOVES the feather toy I have for her.
She is getting along well enough with my dog, Angel. I mean Angle is howling because I have Abu in my room and won't let her run around too much out of it with out super vision. That's be cause Abu is a month and a half old, give or take a day. So she's much too small to take on a dog that was previously teased by cats. (Angle seems over it but I am not going to let them spend time alone until Abu is big enough to hold her own, though Angel is a sweetie... I still am not taking chances yet.) She's litter trained and on solid flood and weaned from her mother, Mango. So she is good to go, as are her sister and three brothers.
My Mom and my brother's girl friend, Danielle, have gotten the only other girl in the litter, a mostly black fluff ball they have agreed between themselves to name Princess, but she has a white stripe on her belly so I like Oreo better for a name.
So Abu and Princess have been playing up a storm the last few days, and now Abu is curled on my chest napping.
So I have a calico fluffy cute cuddly playful precious monkey of a kitten. WOOT!
Well I said there'd be pics and here they are: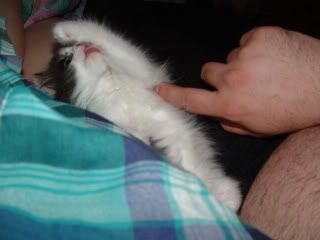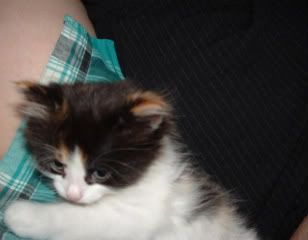 And one of my lovely basset hound, Angel, for good measure: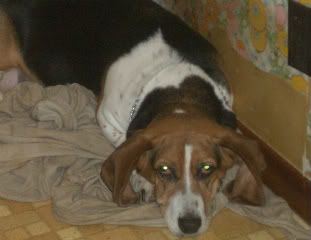 Cuz I love her too!
Sorry for the strangeness of the link... I copied the code right from photobucket and not being a code-person I have no idea why it is doing that. I don't know if they fit in the journal but at least you can see them. So these are my animals, not counting my boyfriend James Perih: or my best friend Phynix... but yeah...
Oh and there are videos of her on Youtube at James Perih's account:
Here's hoping the videos work! *Fingers crossed*
So now that you have had a taste of my cute little fuzzball terror joy of a kitten I am gonna go back to cuddling my kitten and watching stuff yoinked from our Tivo. Enjoy your week all!
~~MausuZ~~